The club hosts numerous private and corporate events
The Geneva Polo Club organises events of all kinds throughout each year;
Frequent after-game asados and drinks
Afterwork drinks at downtown venues
Members dinners
Customer loyalty and cocktail receptions
Team Building and seminars
Product presentations and launches
Staff parties
Management and Team Retreats
Exhibition matches make great entertainment!
Luncheons
Cocktail receptions
Parties
Family and Kids (asado area – tree house – fishing pond – pony games – horse grooming for kids – "Polo Discovery")
Birthdays
Weddings
Brunches
Attendees can cater for themselves or ask the club for catering services. Ask our guests, we have the right professionals for fantastic catered cuisine, and the right Argentine Gauchos for grilled meat!
3rd of September - Save the Date!
Every year, we organize two big events. Per event, we typically attract over 600 exclusive guests from the Geneva and also international community, and this is also a fantastic networking opportunity. These events are around our polo tournaments, The Open Season Cup (in June) and the Copa San Martin (in September).
The Copa San Martin is just around the corner. Get you ticket!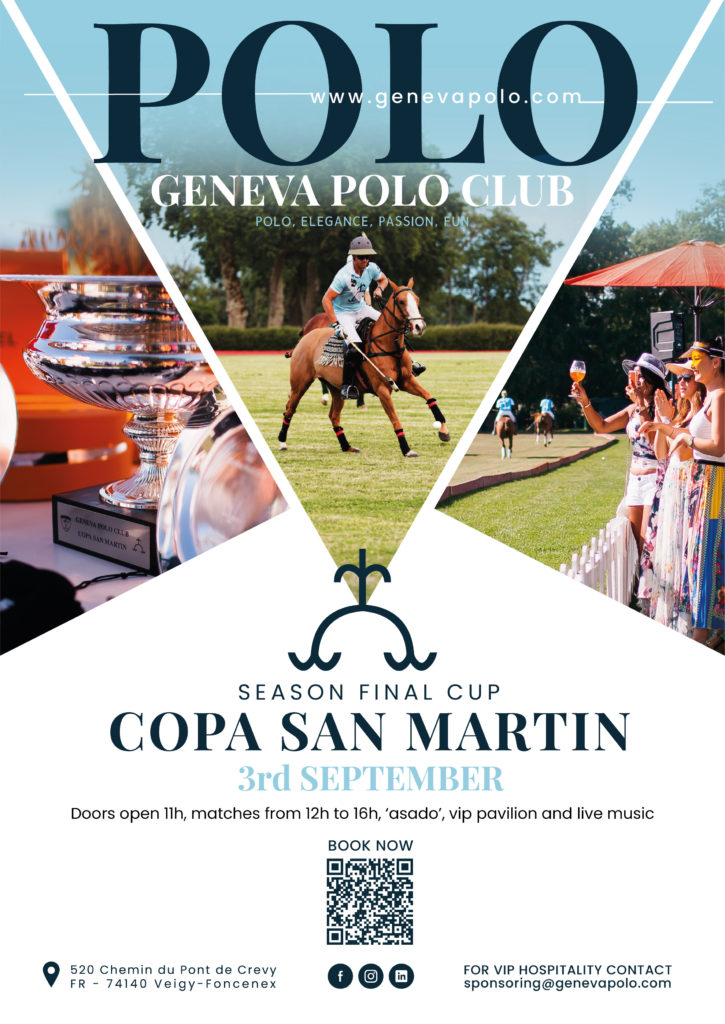 Our next big event this coming spring on the 3rd of September! We will have competitive polo matches as well as representatives of  fashion and lifestyle for this special day. 
This will all take place in a very fun and relaxed atmosphere in the hospitality area field-side to the Polo matches.  As usual, the bespoke services will be on offer (catering, the polo bar, VIP loge, artists, exhibitors' village, music, and more ). 
You can also consider a very exclusive option for you and your important guests, the VIP lodge with full catering, located in the center of the event.
VIP guests will be entitled to:
– A welcome glass of champagne
– Open bar during meals (juice, beer, wine)
– The authentic Argentinian VIP "ASADO" BBQ, complete with: buffet of salads and starters, different cuts of prime meat, including "Cordero" lamb  (typical Argentine barbecue with "chimichurri"), and assorted desserts
– The "goodies" bag
– Coffee & tea
opportunitites For companies
The polo club offers exposure such as placement of logos on our sponsor wall as well as digital and other communications. We offer VIP and sponsor loges field side with or without catering as well as private events.   Stand rentals in the exhibitor village is also an option.
The Geneva Polo Club is always a unique experience.
For more information or book
sponsoring@genevapolo.com
The Geneva Polo Club look forward to seeing you soon!